Anchorpoint Interiors
Creating the workspace you deserve.
Who are we?
Anchorpoint Interiors is one of the UK's leading corporate and commercial workplace design and build companies. Our vision is to use the optimal balance of creativity, style and functionality to reinvigorate offices and workspaces. We provide a full turnkey solution for corporate workspaces, with a focus on city centre organisations.
Anchorpoint has successfully delivered projects ranging from workspace renovations to complete office fit-outs, as well as full turnkey solutions in England, Scotland and Wales. Since 1999 when Anchorpoint Interiors was first established, we continue to operate using the same family values of honesty, integrity and personal service, giving clients guaranteed attention to detail, at every step. Our services include workplace consultancy, design & feasibility, and workspace build.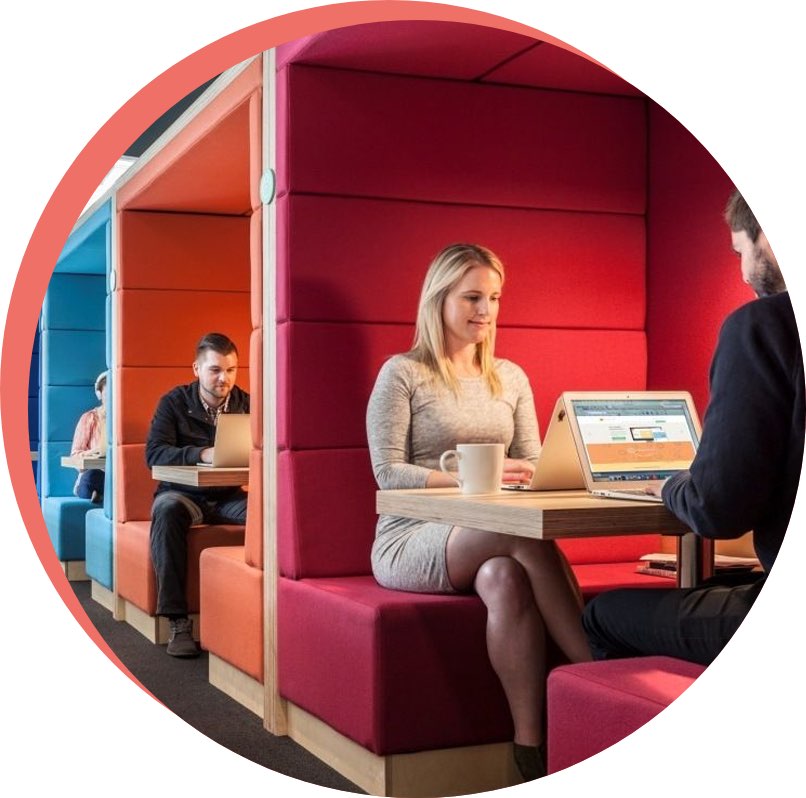 In workplace consultancy, design & feasibility, and workspace build.
Why us?
Our mission: To create bespoke, effective workspaces that improve employee productivity, elevate brands and engage teams.
Over 40 years in the industry. Anchorpoint has some of the best expertise from passionate designers and architects, to skilled project managers, and a range of reliable sub-contractors.
Always up to date. Having worked with many corporate companies throughout the UK, we understand the way you work, and are always up to date with the latest workplace design trends.
We recognise that every client is different; different needs, different working patterns, different budgets and unique tastes. With practical up-to-date advice from our experienced people we will deliver your ideal office design solution.
Quality service is our promise to you. With decades of experience, sound relationships with suppliers, quality products and our dedicated sales team. Many of our extensive range of clients have been with us since we began.
ISO 9001 and ISO 14001 accredited firm. So you are in safe hands.
Concept Design & Feasibility

---

Design Development

---

Procurement & Mobilisation

---

Construction / Implementation
01
Concept Design & Feasibility
At Anchorpoint, we look at the big picture. We ask who the redesign is for, what are their challenges and how do we solve them? Our external, unbiased consultants will be invaluable at this stage to help to you clearly identify your business objectives, cut through doubt and assist with the decision-making process.
02
Design Development
Our design development team will take you from the ideas stage to the development phase. The practise will give you complete overarching visibility of the implementation process and include floor plans, lighting designs and even furniture and equipment selection.
03
Procurement & Mobilisation
Here, we move from the planning stage to the go-live period. Our expert team will ensure that contracts are procured, stakeholders are committed, commercial arrangements are in place and your project is ready to hit the ground running.
04
Construction / Implementation
The construction and implementation phase is one of the most important elements of your design, we understand that. At Anchorpoint, we'll carefully monitor project performance and key indicators, and continue to work alongside you for the project duration to ensure the final outcome provides endless benefits for you and your staff.
I'm currently on holiday but wanted to take the time to thank you both for the fit out work at McCaffery House. I was conscious that I was taking a risk asking my directors to proceed with the highest quote received, but it was clear even during our early discussions that you were best placed to perform the work and that the budget was more realistic than the other contractors bidding for the work. I must also say that the standard of workmanship is excellent throughout the facility and there was barely a snagging list to talk of by the end of the job. The end result is exactly as described and in essence was delivered one week earlier than expected, which is no mean feat. To my mind this was due to the Anchorpoint team who were assigned to carry out the work and specifically Steven Johnston the Site Manager who was exceptional. Steven is a credit to your organisation and should be commended for his efforts on this job. I found him to be very conscientious, transparent, and committed to his work. Nothing was too much trouble for Steven, and the fact that I had no reason to engage with either of you during the course of the contract, is testament to his efforts. The new facility will allow CPS to strengthen our position as the UK's premium clinical trial organisation and ensure we continue to provide best in class medical research for years to come. Thank you once again for making this possible.
Anchorpoint Interiors: Our Values
Challenge and prepare to be challenged
We're always prepared for our opinions to be challenged and feel confident in respectfully challenging the opinions of others, to get you the best solution we can.
Communicate and collaborate
Everything's better when we work together; so we communicate clearly and work collaboratively with our colleagues, partners, leaders and suppliers. This doesn't just make us more than the sum of our parts; it makes us fast, dynamic and efficient.
Listen Intently
Understanding our customers' needs is core to our business, as without this, we cannot possibly deliver the best work. So we don't just hear people, we listen intently and try to understand them.
See the positive
We try to see the positive in everything we do; this creates opportunities and helps us feel happy and fulfilled.
Stand by your word
We value integrity, so if we make a promise, offer help or give someone a guarantee, we stand by our word.
Entrepreneurial bravery
We're a team on a mission: to succeed and reach our full potential. That's why we're forward-thinking, dynamic and proactive, and if we see a potential improvement or opportunity, we don't wait; we act on it.
Our trusted partners
Your success, our reputation! We are proud to accompany more than 30 major brands